ABOUT
In short, I have a wide list of accomplishments, but I am most proud of my drive to make my many passions a sustaining career. With years of hardwork and determination, I currently  boast 2 dance troupes, monthly sold-out "Bellydance Bootcamps", teaching 5 classes per week in addition to online classes through my Patreon, being a sought after performer, choreographer, workshop presenter and a successful large and small scale show producer and event host. Not to mention, having my own jewelry line, Amorticious and now selling paintings and prints under my brand as well.
Please consider subscribing to my Patreon where you will find instructional yoga and bellydance videos, antics, behind the scenes looks into the creative process, giveaways and much much more! Subscribe here for as little as 3$/mo. 
ARTIST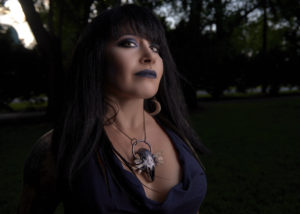 I am a lifelong artist. Maybe it's because I was an only child and a latch key kid left to spend hours entertaining myself. I would spend hours drawing whenever I could find the time, not to mention I would frequently get caught up in art projects at school for hours, getting so detailed and never having the time to finish them.
Fast forward to the mid 90's, I was in college and took several drawing classes, photography classes and design classes. In 1999, I was doing photoshoots and in 2002, I even got to see some of my photos published. But alas, my Pentax K1000 couldn't keep up with digital, so I scrapped that and continued on with my love of drawing.
In July 2001, I had managed to make enough artwork to have a solo art show at  a small gallery in Clayton. It was a lot of hard work but I enjoyed it. There I had drawings and paintings on display. While I continued to draw and work on art projects over the years, I was more focused on my dancing and my day job.
In 2008, I started making my own jewelry out of animal bones. I was inspired by the natural beauty of a magical trip to visit my Aunt and Uncle in New Mexico. I was obsessed with collecting animal remains and curiosities. This is when Amorticious was born.
Over the last several years, my jewelry style continues to evolve and develop  and it seems only right that at some point I would come back to my art which was my first love. In early 2015, I was inspired by an associate who would make simple paintings. It made me want to get back into my painting. So I did. I just started with some little paintings of skulls and third eyes and gave most of them away as gift to my friends. Then it grew and evolved into bigger and more complex things.
In the years 2010 – 2014, I was involved in producing and co-producing many art shows. In 2010, I co-produced Alice at Koken Art Factory with Max Iver.  I co produced several shows with the Skeleton Krewe as well.  Carnival of Curiosities (2011), Through the Looking Glass (2012), Oz (2013). I also helped orchestrate several of the Koken Halloween Shows and in 2014, I was one of the main people behind Naughti Gras, which is no small undertaking. In 2013, I produced, curated, etc my first  art show at Mad Art Gallery called Spirit of the Muse, it was an astounding success with over 300 people attending.
Then in 2016, I began cutting my own linoleum blocks and making block prints. I found it to be very therapeutic. I also worked on developing my painting technique and subject matter. Each painting is a process and a step in the evolution of my art and soul.
In the meantime, I am still making jewelry and you can find me vending locally, nationally and internationally in 2020.
PROFESSIONAL BELLYDANCER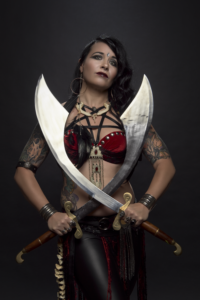 In 1999, I discovered the joy of bellydancing. From my first class with Serena of Aalim, I was hooked and knew this was going to be a life long journey. My style is ever-changing and always evolving. I have a wide array of dance styling from cabaret to more hip hop flavor to theatrical and even ritualistic, but with the underlying them of feminine badassery.
I started teaching in 2006 and in 2008 my dance troupe, ERBD Gang was formed when I choreographed a skirt dance for my students to perform at a local hafla. I fell in love and started the troupe. I love the creative freedom and outlet that choreography (especially group choreos) and movement give me. It's making a painting but using music, movement and dancers to create the masterpiece.
Through thick and thin, I have come back to dance as one of my main forms of creative expression, it is my passion. No matter what is going on in life, dance is always there.
I currently teach 3 bellydance classes per week as well as private lessons, workshops, my sold out semi- monthly "Bellydance Bootcamps", produce several bellydance shows like Hard Raks Cafe' and Urban Cabaret (since 2009 now), in addition to performing locally, regionally and nationally. I am available for private lessons, workshops, performances, choreography creation and performance review. Find my class schedule here.
YOGA INSTRUCTOR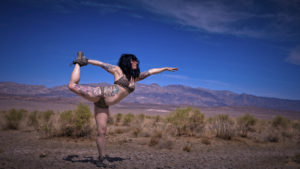 I took my first yoga class in college in 1996, it has become an integral part of my life ever since. I needed a PE credit to graduate, to lose a good 30 pounds and to rebuild my confidence and self-esteem after taking a 3 year hiatus from any kind of physical activity. I found yoga to help accomplish all those needs. Fast forward to almost 14 years later, I had probably a thousand yoga sessions under my belt in all different styles when I finally decided to get my 200 hr RYT.
In 2010, I successfully completed my yoga training from Jaime Sanchez of East West Yoga Healing through Urban Breath in Dogtown. I subbed at UB on and off for the next year when they needed me while I figured out what I wanted to do with my certification. In 2011, I started teaching a weekly yoga class at Lotus Arts on Cherokee. 
2012 – 2019, I taught clothing optional yoga out of my private studio. My group was the first co-ed women run group in this area. In 2018, I started teaching metal yoga at a local bar and then later moved it to my home studio. I firmly believe in the gospel of Metal music and verbal purging and purification. Instead of chanting "Om", we chant mantras like, "Fuck this shit" or "Motherfucker". I currently teach Metal yoga twice a week under the title Metal Rage Yoga Lovefuckers Ver. 2.0.
I believe yoga and bellydance are both the union of spirit, mind and body and I incorporate a love yourself and listen to your body approach to all my classes. Take care of your body and it will take care of you. I am a living testament to this as just a mere three months after I fractured my spine in a climbing accident, I am able to do all the activities I did before the fall.