Exotic Rhythms Bellydance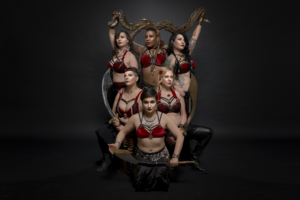 Exotic Rhythms Bellydance troupe was formed in 2oo8 under the premise that all should be able to perform the artform and be part of a special group regardless of size, race, age, gender in a drama and bullshit free zone. I started a dance troupe to banish the idea of "ideal" body images. To prove that not everyone needs to be a size 2 in a bellydance troupe, to give women hope and a chance to be part of something important regardless of age, size or looks. But this really doesn't only apply to the women, now it applies to men too. I believe men too should have the chance to learn the art of bellydance.
In 2007, I met Swan, my first troupe member. Then, shortly after came Eluria DeLune. and in 2011 Jen Rose, joined us and in 2015 both Lucy and Amaiyah completed our circle. In 2018, lovely Amaiyah left to do other things and Alena Volta joined us and I couldn't be happier or more thrilled to work with this talented group every week. Each member brings a special gift to the group.
My group does performances, from blacklight electronic routines to dark fusion to even burlesque inspired dances, as well as your standard tribal fusion fare and not only that, my group also does fire performance (I taught them myself) and double sword! My troupe is badass to the max, I should know I raised these women to reach their fullest potential!