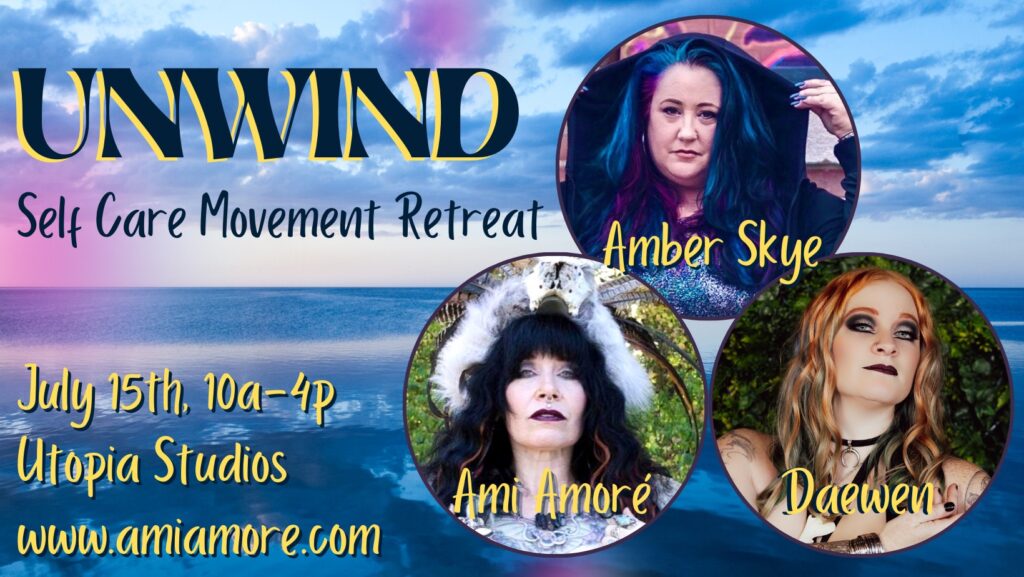 Join some of your favorite local teachers – Ami Amore, Daewen and Amber Skye on July 15th, 2023 at 10 am for a morning and afternoon of movement, inward reflection, self-care and support.
A day just for you. You are everything. Whether you're a dancer or not, this day is designed for you.
Ami Amore will kick things off by leading us in a stress relieving breathing and meditation session, a juicy all levels yoga practice designed to nourish our body, minds and souls and prepare us for the rest days offerings.
Daewen will then lead us on a journey of dance as catharsis. Part of self care is letting go of what doesn't serve you. In this workshop, Daewen will take you through her cathartic dance method to move through pain, loss, frustration, or any negative emotion that needs release. In the intimate setting of this special Retreat, together we will explore creative and emotional movement without judgment.
Note from Daewen:
"Please also note that this method is not meant to be used in place of therapy. I am a HUGE proponent for seeking therapy to manage and work through your trauma, mental illness, or everyday stressors! This method is supplemental, and may not have the same effect for everyone."
We will take a break for lunch in the studio and pass the torch to our gal, Amber Skye for some Body Positive Dance.
Let's dance to fresh tunes and focus on YOU! In this class you will gain the tools necessary in order to feel more comfortable in your body and practice self love. There will be meditation to help you connect to your body, catwalking, group fellowship and sharing, all while learning a fun & easy choreo in order for you to be your highest and baddest self baby! All body types & genders are welcome!! Be prepared for radical self love and above all…FUN!
We're going to end the day with Ami Amore' who will lead us in a short, yin inspired yoga practice and grounding meditation designed to take us over the threshold and back into the real world.
Optional social outing for retreat attendees only immediately following the retreat. Details TBD.
You must be able to commit to the entire day's activities as we will be holding space and creating a container.
A variety of snacks, water and tissues will be provided.
What to bring:
Yoga Mat
Yoga mat
yoga blocks (we will have a few extras)
journal and writing implement
pillow or floor cushion
brown bag lunch
anything you need to feel comfortable (layers of clothing, special snacks, etc)
Unwind – Movement Day Retreat
10am – 4pm
Utopia Studios 3957 Park Ave. St. Louis, Mo 63110
80$ investment / limited slots available- please contact one of us on Facebook if you would like to attend, but have a true financial hardship.
Register here https://buy.stripe.com/aEU8wZeoyeRl5wc004