Ten years and counting…
Today marks my 10 year anniversary as a show producer.
My first show was 2/7/2009 it was a sold out show called the Bleeding Hearts Ball held in a venue called the Necropolis in the basement of Utopia Studios. It was wall to wall people. What made this show so unique was that it was the first dark fusion/experimental bellydance show held in St. Louis and our audience was the general public. A lot of the goth club kids from the St. Louis scene were here as well as a bunch of out of towners. Our guest of honor was Ariellah from California. It was a TON of hard work and a HUGE learning experience for me.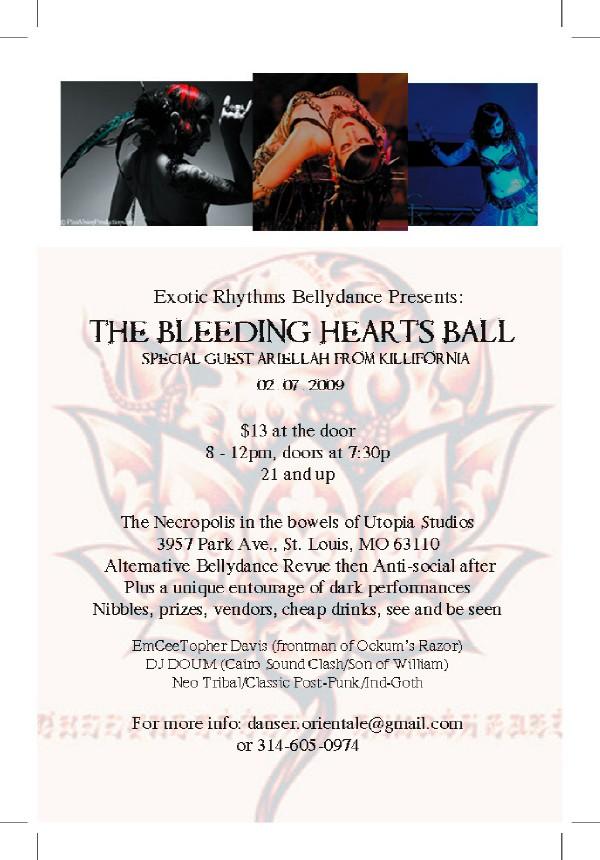 That show set the tone for how I wanted to produce my future shows.
In 2010, I started a monthly show called Urban Cabaret at The Way Out Club in South City. It was a kitchsy spot with a bar cat, perfect for the show producer just starting out and the owners were very accomodating and kind. The show started on a Wednesday night and I started it as a platform for my dancers to have someplace to perform. Then I started opening it up to the entire dance community. In 2014 we moved our show to accommodate our growing audience and in 2015 we made Mad Art Gallery our permanent home.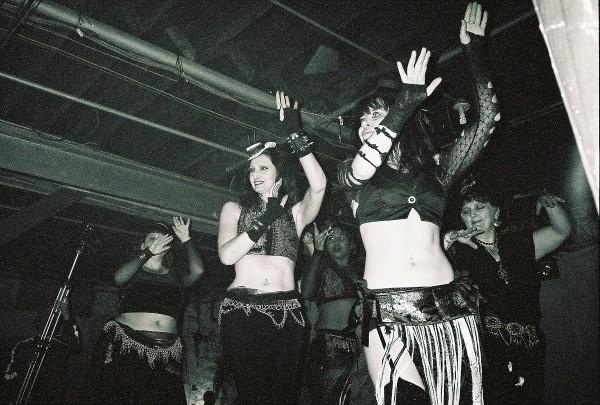 It's 2019 and here I am, still producing Urban Cab and now I have Hard Raks Cafe which is held at the Monocle almost quarterly. It takes a lot of dedication, patience and people skills to produce a show. I can never let any personal issues get in the way. I sometimes have a lot of egos to deal with producing shows (mine and others!), definitely a lot of herding cats. It's not for everyone, you have to grow a thick skin, but at the same time be kind first and foremost to yourself. Some will try and will fail, because the dedication it takes to be consistent. Consistency is key.
If an aspiring show producer were to ask what it takes to produce shows – consistency and dedication. You're going to have failures and success. Try to look at failures as a learning opportunity. Go to other shows and learn, take notes, what did you like, what didn't you like and why. And also be honest, but kind. You need to know how to communicate effectively. You also need to know that when you are wearing your show producer hat and busy running the show, you need to still be a real person and take the time to personally if you can thank guests and friends for spending their money and more importantly, time coming out to your show. Be cordial. Be grateful. Be kind and real with yourself. You're going to have times where you may think, why am I even doing this and that's ok. You're going to have times where you maybe feel unappreciated and you have to pay money out of your own pockets. You may want to give up from time to time, but hang in there. You'll figure out what you need to make it good for you.
My vision for producing shows was and still is, a lively and safe space for all bellydancers to perform and grow as dancers and artists and to create a sense of community. Leave any drama or bullshit at the store, at these shows- it's all about the dance. We all know there can be some leftover drama from years past or purists who feel that a certain style isn't bellydance, but I put aside any BS for the benefit of the show first and always, because it's about the dance and the show there. This goes for audience members as well.
I want to present this dance and it's many variations and styles to the general public as a valid form of art and entertainment. I want to show that anyone regardless of gender, size, race, etc can express themselves with this artform.
With all that being said – next shows I'm producing and in are: